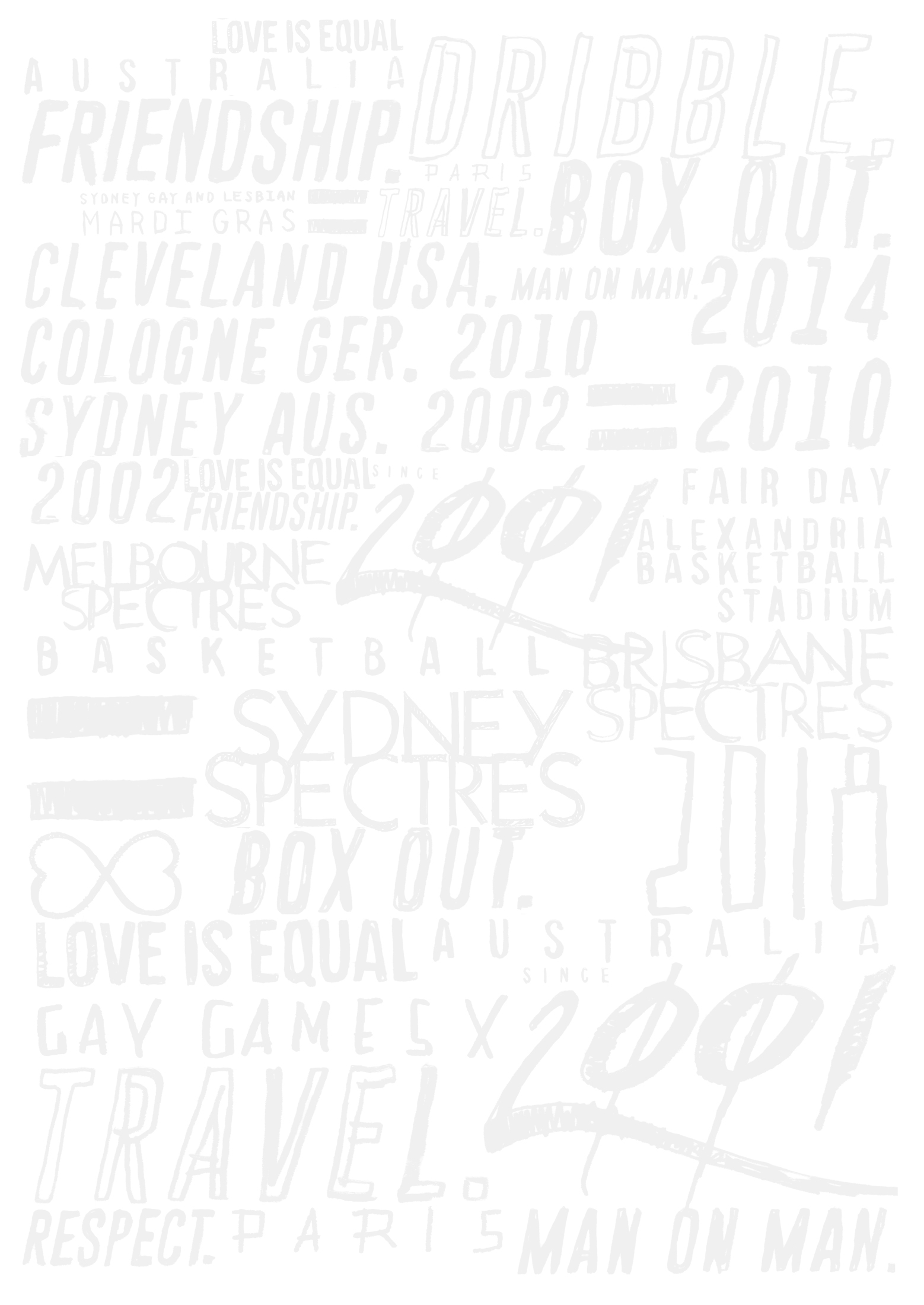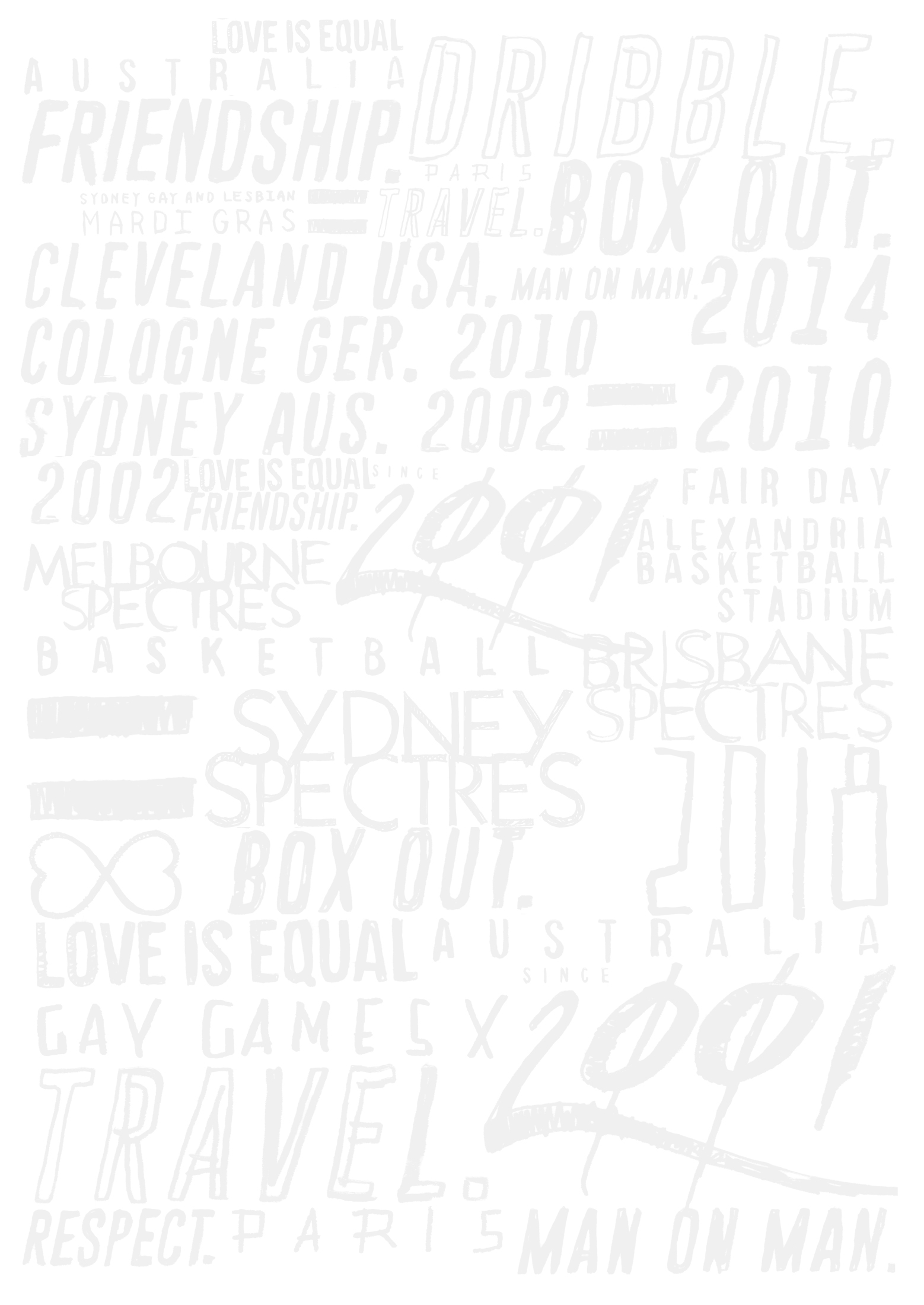 The Founding Sydney Spectres Team at the 2002 Gay Games in Sydney. (From top, left to right): Raymond Van Der Zalm, Thomas Theoharopoulos, Richard Chen, Nen Sin Lay, Drew Walker. (bottom left to right) Stuart Troy, Jaye Mitchell
INTERNATIONAL TOURNAMENTS
Over the years we have continued our tradition of attending international tournaments. Each one an opportunity to be welcomed into a new city to experience a new vibrant community, to meet new friends and celebrate together as a community.
Our next big international tournament is the 2026 Gay Games in Valencia, Spain. Come be part of the team!
In 2004, the Spectres welcomed their first women's competition team playing in the City of Sydney Basketball Association. No other Spectres team have been more successful or dominant as the girls, taking out the competition in many divisions throughout the years while fielding up to 4 teams in a single season. In 2012, two Spectres women's teams fought it out against each other in the grand final match.
From the desire to represent your city in a sport you love. The desire to come together and make friends with people, who (like you) have the courage to stand up proud to be seen and counted. The desire that drove Jaye Mitchell to organise a team to compete at the 2002 Sydney Gay Games. A team that has grown in size and enthusiasm, picking up players, and picking up momentum as we (as a community), barrel towards equality.

This year we are celebrating 22 years together. From maintaining visibility in local basketball competitions, to helping queer and questioning people find friendships and a sense of community within a safe, fun and supportive environment. Many lasting bonds have been formed on our basketball courts. These bonds stretch out to the dancefloor, to the bars, the parades, the community days, the trivia nights, the nights out, to bbq's at home, and sometimes even to the start of new families.
The dedication and commitment from these handful of people have, at different times, lead the club on and off the court and we salute you!
TEAM SPECTRES AND FRIENDS
(From top, left to right:)
The undisputed Queen of Modern Eurovision, 2012's Euphoric winner Loreen with Matt Thiselton at a Mardi Gras, Team Sydney Workshop event.

Basketball royalty John Amaechi, the first former NBA player to come out publicly, here with Stu Troy watching the Spectres play at the 2010 Gay Games in Cologne, Germany.

The iconic 'Tell it to My Heart' Singer Taylor Dane, with the Spectres 2010 Gay Games team in Cologne, Germany.

RuPaul's Dragrace Queen and Youtuber, Charlie Hides with Scott Elk out and about on Sydney's Oxford Street.
2019 saw the start of our first annual interstate tournament, the Spectres Cup played in Melbourne on the 24th of August. Organised by Andrew Bondini the Spectres Cup was a day of basketball bringing together teams from Sydney & Melbourne. In the end it was a close game and Sydney won by 2 points.