CELEBRATING 18 YEARS HISTORY
Welcome! You've found Australia's premier competitive LGBTIQ-inclusive basketball club Spectres Australia! We have teams in Sydney & Melbourne and people ready to shoot some hoops with you in Brisbane. Originally formed in 2001 to represent Sydney and Australia in the 2002 Gay Games, the club has now grown into a multi-team, multi-city, mega collection of awesomness that is now a well-known part of the Australian and International LGBTIQ sporting and basketball community.
Our mission is to provide an inclusive and friendly environment to play basketball, train and socialise. Although winning is important, showing respect, playing with sportsmanship, and making friendships are the core values deeply engrained in the Spectres culture.
JOIN US
Catering for all ages and skill levels, the club presents an opportunity for players to develop athletic ability, compete as part of a team, and socialise with like-minded individuals.
We encourage new players to join and actively develop their skills required to play in our teams. We train regularly at various locations around the country. Visit our Sydney or Melbourne teams pages for more info.
WE'VE GOT TEAMS READY FOR YOU…
For the current 2019 season Spectres Australia has 9 teams registered in 2 states. Sydney Spectres have 3 women's & 2 men's teams competing in the City Of Sydney Basketball Association League in Alexandria. The Melbourne Spectres have 3 men's teams competing in the Melbourne Basketball Association in South Melbourne.
Above: Executive committee members (from top left): Anna Rowe, Jane Ubrien, Brent Devine, Matt Thiselton, Andrew Bondini, Colby Long, Rachel Crossman, Leila Stennett, Scott Elk.
EXECUTIVE ROLES
Sydney Club President: Jane Ubrien.
Sydney Vice President & Secretary: Anna Rowe.
Sydney Treasurer: Chris Kennedy.
Sydney Social & Fundraising: Rachel Crossman & Matt Thisleton
Sydney Digital: Leila Stennett & Rachel Crossman
Melbourne Club President: Andrew Bondini
Melbourne Treasurer: Colby Long
Spectres Australia Branding & Digital: Scott Elk
TEAM ROLES
Sydney Div2 Men Captain: Brent Devine
Sydney Div3 Men Captain: Matt Thiselton
Sydney Blue Div2 Women Captain: Rachel Crossman
Sydney Red Div3 Women Captain: Rachel Crossman
Sydney Purple Div4 Women Captain: Leila Stennett
Melbourne Div2 Men Captain: Andrew Bondini
Melbourne Div3 Men Captain: Colby Long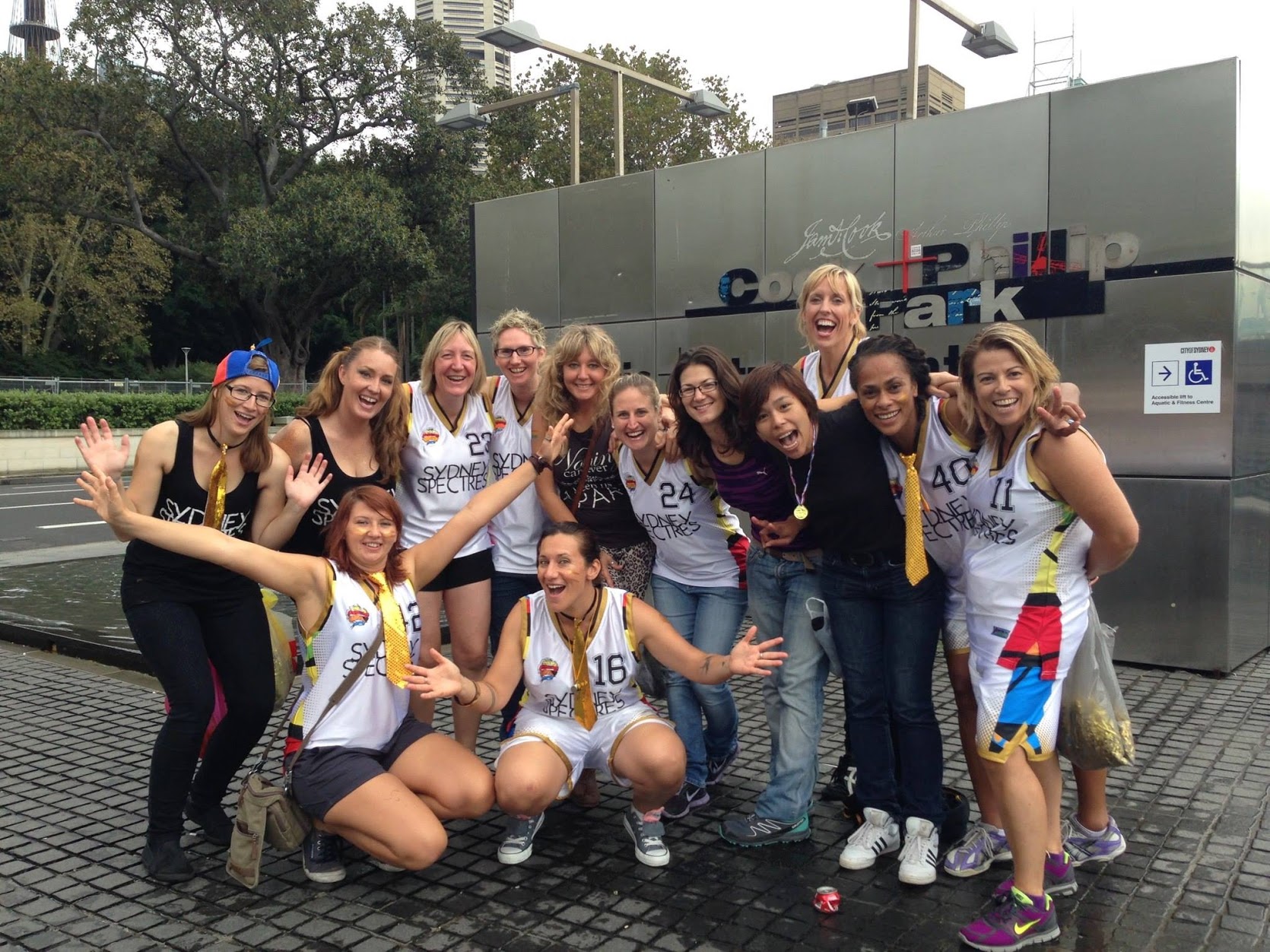 Spectres Australia is a proud supporter of the Gay & Lesbian community because we are part of the Gay & Lesbian community. It's history is our history. It's struggles have been our struggles. It's fight for equality has been our fight. It's celebrations have been our celebrations and some of our biggest triumphs have been hard fought and won. Our members come from all walks of life, straight, gay, lesbian, trans, queer, intersex and non gender identifying. We are single, married, without kids, with kids, young, old and everything in between. Together we are one big rainbow family.
By supporting us, you help us continue the work we do within the Gay & Lesbian Community. It's easy as just getting involved, you could join a team, play in one our 3 on 3 comps, you could attend a trivia night, or visit our stall at Sydney's Mardi Gras Fair Day, you could buy a Spectres Australia Equality t-shirt or jersey, or you could donate and help get our teams to the next big international tournament. We've got our sights set on the 2022 Gay Games in Hong Kong.